OUR REGULAR SERVICES ARE HELD AT:
Sispony church,  St Joan, Sispony, La Massana
On Google maps simply look for "Sispony Church" and it is in then centre of the hamlet of Sispony, on the only street that runs through it, the CS-320, which runs up from the CG-3 just above the Anyos roundabout (left turn) and after passing through Simony runs down into the centre of la Massana by Les Palanques hotel.
Parking is available in a little car park almost opposite the church off the main street that passes through Sispony.
The parish church of La Massana is situated on the same CS-320 as it comes down into La Massana about 200 metres up the street from the corner where the Les Palnques hotel stands.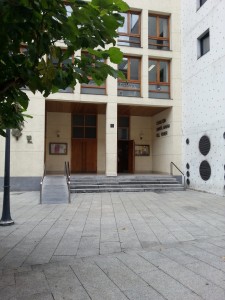 This is the entrance to Santa Maria del Fener – to the left and out of sight is the head office of a local insurance company (large blue signs).
FOR OUR ANNUAL CAROL SERVICE WE ARE IN LA MASSANA:
La Massana is situated in the Vall Nord of Andorra and reached by taking the CG3 from Andorra la Vella.
You enter la Massana on the Avda Sant Antoni and, at the point that this street narrows, just by the Hostal Palanque, the old Carrer Major is to the left.
The parish church of Sant Isicle and Santa Victoria is situated on the old Carrer Major where it turns sharply through 90 degrees to the left.
Parking can be difficult outside the church, but there is always space in the underground pay car park at La Closeta on Ava Sant Antoni , which is situated right by the Esso service station just a short walk away (and marked 'P' on the Google map).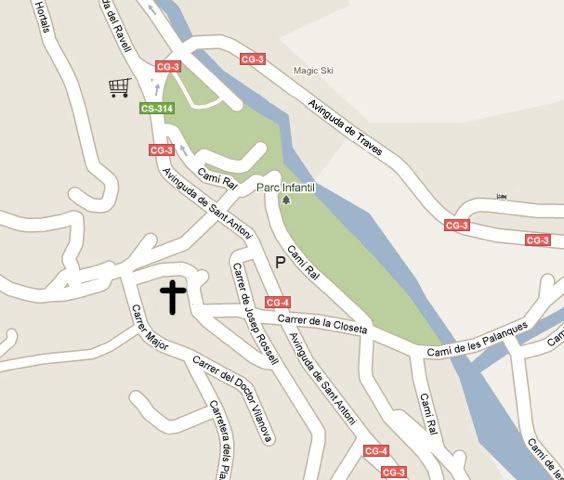 These images should give you an idea of what you're looking for….on Christmas Eve!